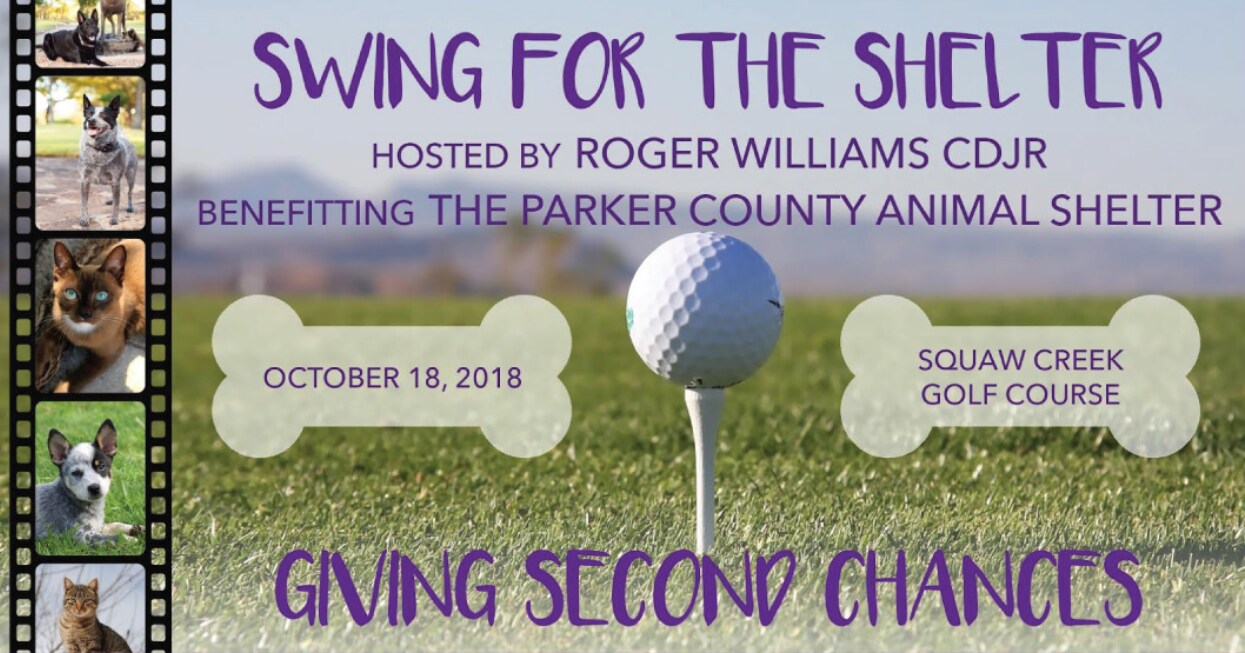 Roger Williams CDJR in Weatherford TX is proud to host the Swing for the Shelter event sponsoring the Parker County Animal Shelter on Thursday October 18th, 2018 at Squaw Creek Golf Course. Arrival time starts at 10:30 am and tee time starts at 12:00 pm. Come help us support a great cause!
The "Giving Second Chances" campaign for the Parker County Animal Shelter in Weatherford TX has a challenging goal of raising $1,650,000 to $2,600,000 to help the shelter strengthen its mission of reuniting, rehoming, and rescuing the animals in Parker County.
The funds raised will enable the shelter to address the following four areas to help provide the most efficient/loving care for the animals:
Eight construction projects
Spay and neuter program
Feral cat and trap-neuter-release operations
Improved roads and grounds

All Proceeds Benefit the Parker County Giving Second Chances Animal Shelter
18 Game Holes Sponsor                                                 Vintage Grill
Exploding Golf Ball Sponsor                                            First Financial
Golf Cart Sponsor                                                          Speed Fab Crete
Towel Sponsor                                                              Ally Financial
Raffle Sponsor                                                              City of Hudson Oaks
Raffle Sponsor                                                              City of Willow Park
Donating lunch on the course:
Vintage Grill - Drake's Yoke
Clearfork Market - Booray's - Aaron's Catering
Web design sponsor - Synergy Elements Marketing
Radio Sponsor - Chuck FM
Signs Sponsor - Weatherford Sign Co.
Holes Signs $100 Each
Deadline October 4th 2018
For More Info Contact (817) 586-9037
BRENDASTEWART226@YAHOO.COM