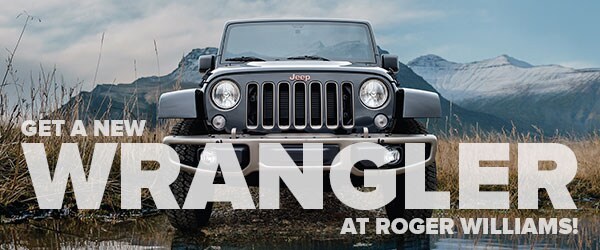 When it comes to heading off-road, Jeep is the go-to brand for most drivers. With the incredible, capable, and versatile
Jeep Wrangler
and Wrangler Unlimited on the lineup, that isn't surprising. Designed to hit the trails and conquer any terrain, the Wrangler line runs strong back to World War II. Celebrating its 75th anniversary, the Jeep Wrangler still strives to make every day an adventure.
Jeep Wrangler
The 2016 Jeep Wrangler starts at just under $24,000 for the base Sport model. Under the hood is a 3.6-liter V6 engine that packs a best-in-class 285 hp and 260 lb-ft of torque while earning an EPA-estimated 17 city/21 hwy mpg. The
Jeep Wrangler features
the traditional Jeep look, an excellent turning radius, and excellent trail access.
Designed to head off-road, the Wrangler comes with a wash-out interior with drain plugs, a lockable center console, and a leather-wrapped steering wheel that way you can do your off-roading topless. With the available Navigation by Garmin, you can keep track of your location on and off the beaten path.
Jeep Wrangler Unlimited
The 2016 Jeep Wrangler Unlimited is a step above the standard Wrangler. Packing the same engine, the Wrangler Unlimited comes with four doors making it easier to pick up passengers on the way to your next adventure. It also offers a higher tow rating, a larger fuel tank, and extra room for cargo. The Jeep Wrangler Unlimited is a great option for those who like
convenience
, but still crave excellent 4x4 capabilities.
Whether you pick the traditional Wrangler or the Wrangler Unlimited, you're sure to get Jeep's amazing 4x4 capabilities. Both models are offered in many colors and trim options so you can get the perfect Jeep to fit your off-roading needs.
The team here at Roger Williams would be happy to tell you more about the Jeep Wrangler and Wrangler Unlimited! We have many avid Jeep enthusiasts working at
our dealership
that will be able to give you the complete Wrangler work up. Visit us today in Weatherford, Texas!