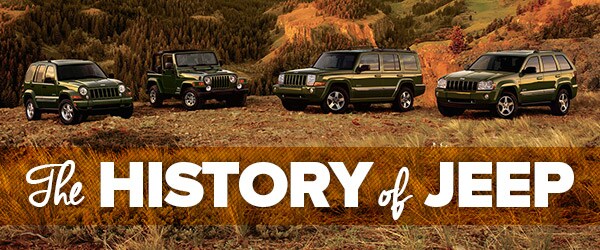 We're honored to sell vehicles from Jeep, a company that has maintained its status as one of the most innovative automakers throughout the years despite many changes in ownership and market fluctuations.
It's not simple to summarize Jeep's rich history, but here is a brief timeline:
1940: The Willys-Overland company builds a WW Two Jeep prototype, the first ever of its kind.
1945: Just five years later, Willys builds the first civilian Jeep for the public.
1950: The, Willys trademarks the Jeep name.
1953: The first major ownership change for Jeep occurs when Kaiser Motors acquires Willys.
1963: Ten years later, the Jeep had become influential to the point that Kaiser changes its name to Kaiser-Jeep.
1970: Yet again, the ownership changes, as American Motors Corporation (AMC) acquires Kaiser-Jeep.
1979: Seven years later, the Renault invests heavily in AMC.
1984: Soon after, AMC forms the Beijing Jeep joint venture all the way in China, increasing the international presence of Jeep.
1987: Then, Chrysler finally acquires AMC, more than 40 years after the first Jeep prototype was designed.
1998: About ten years later, German company Daimler AG acquires Chrysler.
2007: And then, once again, ownership changes when Cerberus acquires Chrysler.
2009: Ownership changes for the last major time when Fiat obtains contrail of Chrysler.
2014: Fiat Chrysler Automobiles is established, merging both Fiat Group Automobiles and Chrysler LLC.
Present day: Under the ownership of Fiat Chrysler, Jeep continues to update their model line each year, putting out a diverse list of game-changing models.
Want to learn more about Jeep or check out one of the many award-winning, much-loved models we have
available
? Contact us or visit us anytime at
Roger Williams
CDJR! We carry the iconic Wrangler, the luxurious Grand Cherokee, and more!
Visit us
today at
1015 Fort Worth Highway
,
Weatherford
,
TX
76086!