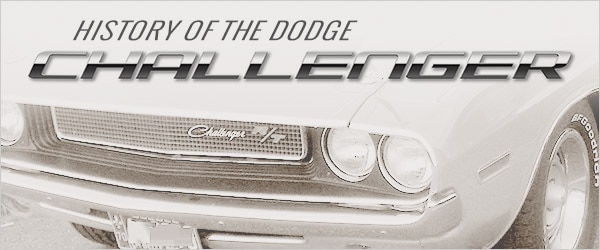 The Dodge Challenger
roared onto the American muscle scene
in the fall of 1969 with its 1970 model: a two-door, hard-top convertible giant with a roomy interior and a wheelbase two inches wider than the competition. What made the 1970 Challenger unforgettable was its wide variety of powertrain options, ranging from a 225-cubic-inch I6, 145-hp engine to a 44-cubic-inch V8, 390-hp engine. These early models were produced until 1974; approximately 188,600 Dodge Challengers were sold in those five years. 
In 1978, Dodge reintroduced the Challenger as a
coupe
. Sales were steady but without the boom of the original models as Dodge competed in a car-buyer market leaning toward compacts. In 1984, production of the Dodge Challenger once again ceased. 
But again the Dodge Challenger rose up from the dark depths of automotive death. In January 2006, Chrysler released the concept for a new Dodge Challenger at the North American International Auto Show in Detroit, Michigan. Production of the new Challenger was not guaranteed, though. For months after Chrysler's grand unveiling, demands for a new Dodge Challenger were made through widespread media praise and public outcry.
Finally, in 2008, Dodge gave the people what they wanted.  At the Chicago Auto Show, the
all-new
but classically styled Dodge Challenger SRT8 was uncovered to universal acclaim. 
Today, Dodge continues to manufacture Challengers. They are cars which constantly test the limits of American muscle, which move the entire industry forward into the untapped avenues of vehicular might. All this without losing the power of its traditional, storied place in automotive history. 
We're proud to carry the Dodge Challenger on our Weatherford, Texas lot! This car brings performance and rich history to Dodge's impressive
lineup
of vehicles. If you would like to learn more about the current Dodge Challenger, feel free to give us a call or stop by our dealership. We are located at 1015 Fort Worth Hwy Weatherford, TX 76086. We're proud to serve customers from Fort Worth,
Mineral Wells
and beyond!