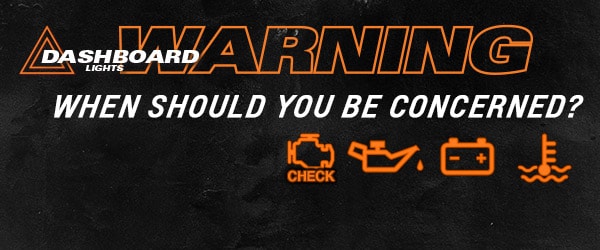 Do you have a dashboard warning light on? Should you be concerned?
Modern cars
have come a long way from their predecessors, but the dashboard warning lights still remain. While some drivers choose to cover the warning lights with electrical tape, others heed each warning and take their worrying a little too far. Fear of the unknown is a major problem, especially if you're driving a two-ton vehicle moving at high speeds. So, really, what do dashboard warning lights mean?
Before we get to some of the more common warning lights, here are a few basics to remember.
A red warning light indicates there's a serious problem with the vehicle. If it isn't red, there's no need to take immediate action.
A yellow or orange warning light means that your vehicle will need attending to soon. Make a service appointment once you arrive at your destination. If the light is flashing, contact the dealership service department as soon as possible.
A green or blue warning light lets you know that a system is currently operating. One of the more common green or blue lights comes on when you drive with your high beams.