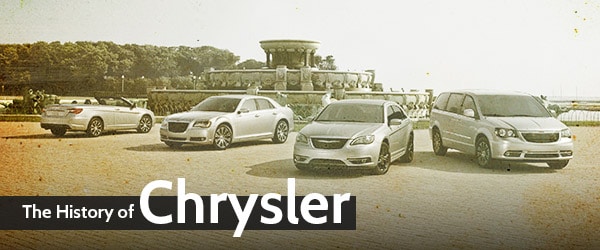 At Roger Williams CDJR, we are proud to offer a
variety of vehicles
, including those made by Chrysler, an automaker with a long history of innovation, style, and game-changing creations.
Here is a short timeline of Chrysler's
history
, to catch you up on its legacy.
1924 - Walter Chrysler introduces the first-ever Chrysler automobile, which was a six-cylinder automobile designed at a low price.
1925 - The Chrysler company was first founded by Walter Chrysler, on June 6th, after the great success of the Chrysler automobile.
1928 - Chrysler buys the successful Dodge Brothers' automobile and truck company and begins to sell Dodge vehicles.
1936 - In a short amount of time, Chrysler becomes one of the most prosperous automakers, achieving the second-place position within US industry sales.
1955 - Chrysler creates its own luxury subdivision of cars, naming it "Imperial."
1971 - The Imperial division is eventually melded back into Chrysler, after coming out with new models every two or three years.
1987 - Chrysler purchases the Jeep brand, with a sharp eye on the Jeep Grand Cherokee, and begins to sell the Jeep lineup.
1990s - Throughout this time period, ownership and the official name of the Chrysler company changes, as new cars are developed each year.
2000s - Like the rest of the automotive industry, Chrysler suffers under the Great Recession, eventually turning around by 2010, when the Grand Cherokee is named the most award-winning SUV ever.
Today - Chrysler is owned by Fiat Chrysler Automobiles, and their lineup is stronger than ever.
Interested in learning more about Chrysler, or would like to check out one of our many available Chrysler
models
? Contact us or visit us anytime at Roger Williams CDJR.