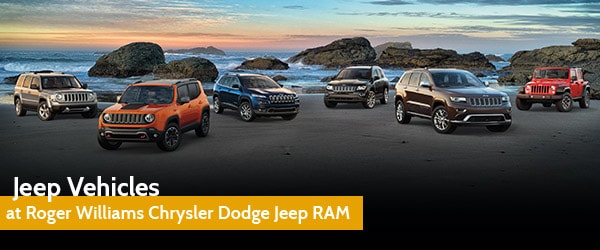 When you think of Jeep, the Wrangler is probably the first vehicle that comes to mind. We're here to tell you that Jeep has a nice selection of great vehicles, other than the Wrangler! If you're looking for excellent capabilities, but want something a little less rugged, check out all of the other great CUVs and SUVs made by Jeep!
Jeep is committed to engineering reliable and refined utility vehicles, and has been since 1941 when the brand first began manufacturing for the United States Army.  Today, Jeep offers a rich lineup of ever-ready SUVs and crossovers that leaves drivers feeling prepared for whatever the road-or the off-road-throws at them.
Jeep Compass
The Jeep Compass offers the full power of an SUV with the convenience of a compact car. Delivering comfort, capability, and craftsmanship with a level of distinction unparalleled in its class, the Jeep Compass-with its 26 mpg highway rating-is an excellent option for drivers in the pursuit of quality above all else.
Jeep Cherokee
As one of the Jeep brand's most renowned vehicles, the Jeep Cherokee is a vehicle beloved by adventurers, off-roaders, and city-dwellers alike. With its class-leading 4x4 capabilities, impressive 31 mpg highway rating-and its outstanding legacy of high performance, satisfaction, and safety-the Cherokee is an undeniably strong choice for any driver who craves power on the road.
Jeep Grand Cherokee
The Jeep Grand Cherokee is the most luxurious vehicle in Jeep's lineup. With the Jeep Grand Cherokee's eye-catching new look, its title as a Consumer Digest's Automotive Best Buy, and its powerful combination of off-road toughness and tasteful luxury appointments, it's a challenge to find an SUV to call its "competition."
Jeep Renegade
The Renegade is the newest member of the Jeep family. This vehicle is just as bold as its name suggests. Its design is distinct, yet it stays true to the classic Jeep look. The Renegade also upholds Jeep's high standards for performance and quality with its powerful and powerfully efficient 1.4-liter Turbo engine and 31 mpg highway rating. If you're someone who likes to have the latest and greatest, the Renegade may be the perfect option for you.
Jeep Patriot
"Adventure" is the defining feature of the Jeep Patriot. With its available 4x4 system, generous cargo space that doesn't infringe on the comfort of your passengers, as well as a wealth of available infotainment features (including Bluetooth connectivity and intuitive Navigation), the Patriot will make adventure second-nature to any driver.
The good news is that Roger Williams CDJR carries all of these greatmodels! Visit our dealership at 1015 Fort Worth Hwy, Weatherford, TX 76086. We're proud to serve Granbury, Mineral Wells, and beyond!